Posted: Sunday, July 5, 2015 by
WKR
in
Clarksville, Indiana (July 3, 2015) - - Will Kimmel has been called, "the little engine that could." He has proven to be just that. Kimmel has raced on and off in the
ARCA racing series presented by Menards since 2011. Without a full-time sponsor, the family run race team has been unable to compete for the championship and run a full season. Despite set backs and continued lack of funding, Kimmel has been able to race 7 of the 10 ARCA races this year with a recent 3rd place finish at Chicagoland Speedway. The young driver has also been able to jump into a street stock car to race in the new G.A.R.S. racing series. He won the series opening race at Salem Speedway in Salem, Indiana back in May.

Next weekend Kimmel will fulfill yet another dream. The Sellersburg native will climb into the #32 Go Green Racing car for the NASCAR Sprint Cup Series race at Kentucky Speedway. "I'm excited, but also nervous to be able to race at this elite level. It's a special opportunity and I just want to do my best and finish all the laps." says Kimmel. The small race team based out of Mooresville, North Carolina is working hard to prepare for the 267 lap race.
The schedule on Friday, July 10th will include two practice sessions, 10:30 am and final practice at 1pm. Qualifying takes place later that day at 5:45 pm. The green flag will drop at the Quaker State 400 presented by Advanced Auto Parts at 7:30 pm on Saturday July 11th. Television coverage will be on NBCSN.
The 1.5 mile track located in Sparta, Kentucky is only about an hour from home for Kimmel. Even though it is a relatively close track, the 27 year old driver has only raced there a handful of times within the ARCA series, once in a NASCAR Nationwide series race and once in the NASCAR Camping World Truck series. "I like the track because it is a multi-groove track. The roughness makes for better racing." said Kimmel when asked about his time at Kentucky Speedway.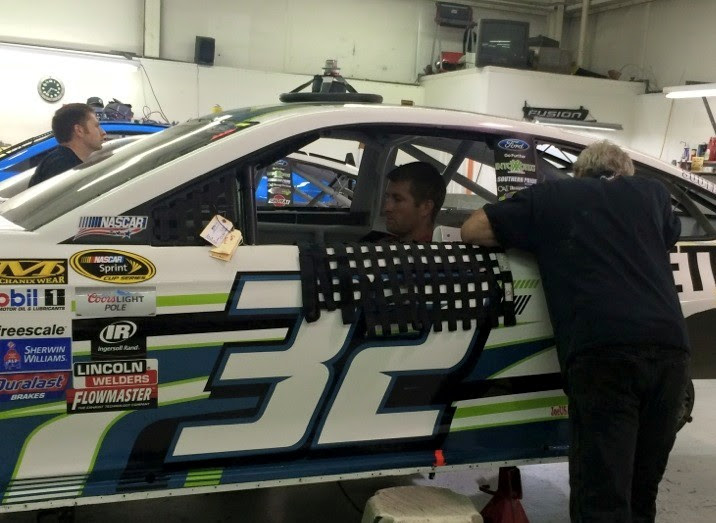 Will getting fitted in the #32 car in Mooresville
Will Kimmel has raced since he could reach the pedals. It has always been the family business as he watched his dad and grandpa race every weekend they could. Kimmel has had the privilege to race in several different series, in several different vehicles, and at several different tracks. This will be his first NASCAR Sprint Cup race. He goes into every new racing experience ready to learn and make the most of it. "There is so much to learn from working with other racers, teams, and cars. I am beyond grateful for this chance. I want to thank Archie St. Hillaire, the team owner, and also Portland Recycling for coming on as an associate sponsor. This has already been such an incredible experience. July 11th can't get here fast enough!"
Follow

Will

Kimmel

on social media: